In this episode, I'm addressing one of the pain points some of my listeners have – how to manage taking care of children and running a freelance translation business at the same time. I started out as a freelance translator when my son was 3 and my daughter a baby, so I know how difficult it can be. Instead of just providing my input, I am interviewing two freelance translators who are in the midst of raising children and running their freelance businesses, Catherine Christaki and Kristin Kamm.
Important things discussed in this episode:
The fear of losing clients when becoming a parent
Taking time off or not and getting back to work
Changes in work schedule and how to structure time around work and parenting
Child care alternatives
How to deal with the parent guilt when working
General tips on combining parenting and freelancing
Useful links mentioned in this episode:
Kristin Kamm's LinkedIn profile
Being a freelancer is a great way to combine parenthood and freelancing, since we can adjust our schedules around the children, and above all, be there for them. Now over to you. Please tell us how you manage parenthood and freelancing at the same time. What is your biggest struggle, and do you have any other tips than these for others? Share in the comments below.
Bios:
Kristin Kamm is an ATA-certified French > English and Italian > English translator. After starting her career in the translation industry as a Project Manager, she received a Master's degree in Translation Studies from the University of Edinburgh. She specializes in medical and pharmaceutical translation, focusing on clinical trial documentation. She worked as an in-house translator for over 4 years and started freelancing full time in March 2017.
Catherine Christaki has been a full-time English-Greek translator since 2001 and co-owner of Lingua Greca Translations since 2012. Her specializations include IT (lead Greek translator for Apple since 2011), Medical and Technical texts. In 2013, she translated the popular guide for translation buyers, Translation: Getting It Right, into Greek. She is active on social media, especially on Twitter @LinguaGreca, and writes the translation blog Adventures in Technical Translation.
Everything a translator needs to manage their home business!
Use our CAT tool, price management, customer management, invoicing, and linguistic solutions to manage your business. Start your 15 day free trial or talk to one of our localization consultants. Check it out!
WordFinder – The Words you want, anytime, anywhere
Try it free at wordfinder.com.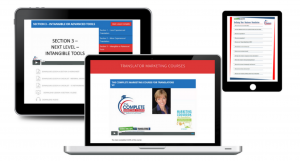 Registration for the next session of The Complete Marketing Course is open! Next session starts January 14th! It's a step-by-step marketing course for busy freelance translators that you can adjust to your career situation. For any language combination and location. Sign up to create a plan to reach your ideal clients in 2019!
Please take a moment to leave a review. It would mean a lot to me and will make sure other listeners see the podcast. Click on this link to get directly to the review section:
https://itunes.apple.com/us/podcast/id810122938?mt=2&ls=1
Podcast: Play in new window | Download