Many freelance translators have developed their business into translation companies, or at least thought about doing it. In this episode I interview a freelancer turned chief executive officer for multiple companies in the language industry. Renato Beninatto gives us tips on how to develop your own company, and tells us about his own experience. He claims that the only difference between a translator and a chief executive officer is a state of mind.
Important things mentioned in this episode:
Opportunities for freelance translators to develop translation companies
Barriers to entry
Renato's journey from freelance translator to chief executive
Steps to develop a translation company
Most important roles in a translation company
Useful links mentioned in this episode:
For entrepreneurial linguists wanting to take their businesses to the next level, there is little standing in the way. The barriers to entry are low and the potential rewards are high. If you're an experienced translator, and feel you have plateaued when it comes to income, you could consider developing into a translation company. Do you already work as a translation company or have you considered it? I would love to hear from you. Please share in the comments below. If you liked this episode, make sure to subscribe in your favorite podcast listening app (see links to the right) so you won't miss any episodes, plus share it with your colleagues.
Bio:
Instigative, controversial, thought-provoking and opinionated, Renato Beninatto is the coauthor of The General Theory of the Translation Company and leads Nimdzi Insights, a think-tank and consulting company that focuses on growth strategies for localization leaders. A former executive in some of the leading companies in the industry, Renato is also the cohost of the Globally Speaking podcast.
Everything a translator needs to manage their home business!
Use our CAT tool, price management, customer management, invoicing, and linguistic solutions to manage your business. Start your 15 day free trial or talk to one of our localization consultants. Check it out!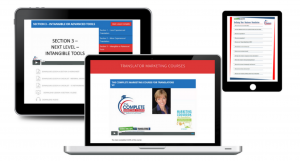 Next session of The Complete Course for Translators starts January 14th! There are still a few spots left! It's a step-by-step marketing course for busy freelance translators that you can adjust to your career situation. For any language combination and location. Sign up to create a plan to reach your ideal clients in 2019!
Please take a moment to leave a review. It would mean a lot to me and will make sure other listeners see the podcast. Click on this link to get directly to the review section:
https://itunes.apple.com/us/podcast/id810122938?mt=2&ls=1
Podcast: Play in new window | Download